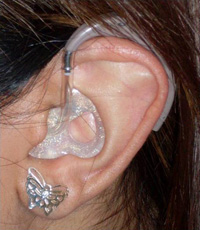 Hear to Help is a service run through a partnership between Action on Hearing Loss (previously RNID) and the Audiology department of Birmingham Heartlands Hospital.
How we can help you?
As a national hearing loss charity we understand that coping with hearing loss can often create difficulties for you and those around you. So we run a free service that will give you the confidence to make the most of your hearing aids and manage your hearing loss effectively.
We can help you to keep your hearing aids working to their full potential. We can:
Carry out simple checks
Give advice on how to look after and fit your aids
Discuss other types of hearing aids, equipment and service that might help you
Help you with new batteries or tubing your NHS hearing aids
Give you advice on coping with hearing loss, such as communication tips
Refer you to your GP or hearing aid provider, if necessary.
Who are we?
Our staff and volunteers are fully trained with hearing aid maintenance, as well as to give advice and support. Many of our volunteers wear hearing aids themselves- so we have first-hand experience of the difficulties you might be facing.
Interested?
Please find a list of drop-in sessions which are run on a monthly basis. We are always looking for new volunteers. If you would like to help others make the most of their hearing aids, please do get in touch.
For more information please visit http://www.actiononhearingloss.org.uk/supporting-you/hear-to-help-hearing-aid-support/find-a-hear-to-help-service-in-your-area/midlands/birmingham.aspx