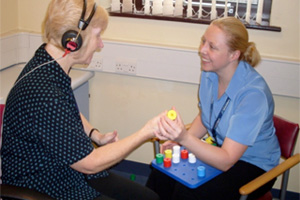 Within the Hearing Centre, we have a dedicated team who specialises in assessing, fitting and supporting Adults with a Learning Disability. We are also skilled in providing services for individuals who require specialist support due to their mental health.
Prominence of hearing loss within this population
"Almost 40% of adults with a learning disability will have a hearing loss yet for many people the loss will not be diagnosed because their audiology services are not accessible to them. For many, the loss will be identified but the support they receive will not be adequate for them to benefit from a hearing aid. The consequences can be a double disadvantage, their learning disability precludes them from receiving adequate support for their hearing problem and the failure to address their hearing loss will in turn exacerbate the effects of their learning disability." - http://www.hald.org.uk/ - Accessed 05/09/2012
We aim to:
provide a holistic, quality service to meet an individual's needs in order to make the most of their hearing
facilitate better access to appropriate services through promoting better health and quality of life for the individual
provide additional support to the individual, beyond that of a hearing aid, to include follow ups, assistive listening devices, tinnitus support, balance rehabilitation and hearing therapy support where appropriate
provide residential homes/carers/family with training and information to help support the individual with a learning disability
What did people think of our service?
What our service users thought ...
- "They explained the different things that could help me. They were really helpful."

- "I thought it was fantastic. The staff were really nice. I like go to your service."

- "The service I got was the best I have ever had for about 30 years. My hearing aids are so good now, I can even hear cars and airplanes."

- "It was good that you came to my home. It was pleasant to have support and everything which was nice. The hearing aids are really good. I thought you did an excellent service."

What carers/other professionals thought ...
- "Having experienced and trained people who understand the problems about people with learning disabilities was good."

- "The service is very good. A lot of disabled people get very frustrated with forms, letters and crowds of people. They need time and a quiet relaxed atmosphere as well as being reassured about what's involved and everything was explained as well as testing taking place in the place of the disabled person. An excellent service."

- "As long as the service is kept as it is at the moment. In fact this type of service to disabled people should be extended to other services within the hospital."

- "The service is excellent and should be kept. Disabled people with both physical and mental health problems need time and attention to be assessed in a dignified way. This in turn promotes more cooperation from staff, patients and carers – A win win situation that should continue."

- "Promote yourselves more! It's a great service which definitely needs to continue. I have recommended it to L.D. colleagues and service users/carers. But not many people have heard of the service yet."

- "Access to service is great ... Communication from receipt of referral to end if the assessment and treatment is very good and thorough ... Inclusive service regardless of diagnosis, level of learning disabilities and associated difficulties they have e.g. communication or behavioural difficulties. Appointments are not rushed and further appointments are offered if the first wasn't successful, maybe due to the service user not being relaxed or able to sit for the assessment. Carers have expressed they felt supported throughout the process and their concerns were not dismissed."

How you can refer in to us
We welcome referrals from anyone, including GPs, ENT, carers, family members, support workers, other agencies or from the patients themselves. To refer into the service, please complete a referral form or write a letter of referral and send it to:
Kara Kerr
Senior Hearing Therapist
Lead for Learning Disability Service
Hearing Centre
Heartlands Hospital
Bordesley Green East
Birmingham
B9 5SS
Email: kara.kerr@heartofengland.nhs.uk
Tel: 0121 424 3154
Once we receive a referral for a new patient, we will write to the patient's GP (unless referral came from GP), requesting consent to see the patient. At the Hearing Centre, our remit for our generic patients covers North and East Birmingham and Sutton Coldfield. However for our patients with learning disabilities, we will accept referrals from anywhere, as we appreciate that not all areas have a similar service to ours, and as long as we have the GP's consent, we are happy to provide a service.
Please use the links below to find out more information about the Learning Disability service for adults.
Download the 'Learning Disability Flyer'
Download the 'Learning Disability Self Referral Form'
Useful Links
http://www.netbuddy.org.uk/info-packs/audiology/
http://www.seeability.org/myeyecare/